Tatiana
LMT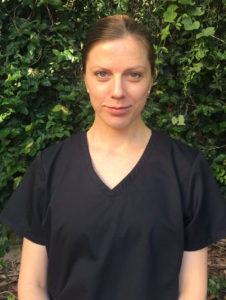 Tatiana came to appreciate manual therapy and massage while recovering from a neck injury. Her discomfort was gone sooner than she expected thanks to a very gifted therapist and without the use of any medications. She knew she wanted to help other people the same way one day!
Shortly after earning a degree in Foreign Languages and International Communications in 2009, Tatiana went to a massage school (in her home county of Russia) to learn more about noninvasive treatment. After moving to the US, she pursued her dream and graduated from Educating Hands School of Massage in Miami in 2012.
Her approach focuses on balancing and alignment of the body, and often incorporates various methods Swedish, deep tissue, PNF (a stretching technique originally designed to treat neuromuscular conditions such as polio and multiple sclerosis), trigger point therapy and reflexology. Her goal is to provide restorative therapies that aids the body's natural healing process and reconnect the person as a whole.
Tatiana loves working with various shoulder and arm issues, TMJ disorders, scar tissues and headaches.
During her spare time, she enjoys spending time with her family, as well as gardening. As an avid nature enthusiast, Tatiana enjoys travel and experiencing nature as the greatest source of healing.
Tatiana was nominated by her colleagues as the 2018 Q1 Employee of the Quarter for embodying Zalla Massage core values, most especially Focus On Meeting the Client's Needs, and Be Passionate About Giving Your Best!