Danielle
LMT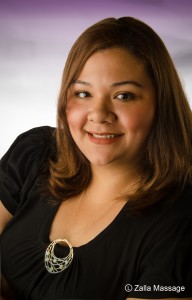 Danielle graduated from the College of Healthcare Professions in 2008 and has been licensed since 2009. In addition to excelling in all modalities on our menu, Danielle also offers Cranial Sacral Therapy, Acupressure, Chair Massage and can specifically address Carpal Tunnel Syndrome and sciatic pain.
Her style is firm and therapeutic, yet rhythmic and relaxing. She uses a blend of communication and intuition to tailor each massage to your needs. Her nurturing and compassionate touch is deep enough to effectively alleviate sore muscles and gentle enough to bring about complete relaxation.
Danielle is experienced working with athletes using sports and deep tissue techniques. She finds it fulfilling to give her clients greater mobility in the neck, shoulders and lower back areas.
Her goal for every session is to allow your mind and body to return to its natural state of harmony and balance. This includes deeply focusing on problem areas such as neck and shoulders while also addressing whole body stress relief.
Danielle says she has felt connected to massage therapy from a young age and felt she had a natural talent and ability to help others heal. She believes your body has the ability to heal itself and massage therapy will put you on a path to restoring your body's health.