Zalla Otten, LMT, CYT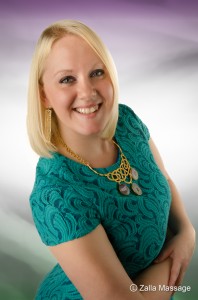 Zalla Otten founded Zalla Massage in July of 2010 after several years of experience in various Houston spas, learning the basics of the industry and finding areas to improve upon. As a student of Oregon School of Massage in Portland, Zalla developed an understanding of massage as a powerful tool to holistically enhance the mind-body-spirit connection. This belief systems influences many of the policies, practices and core values of Zalla Massage.
Zalla began her ongoing journey to bring deeply transformative bodywork to the masses as early as grade school. Family and friends could no more than sit down before they were subjected to the "strong hands" of little Zalla.
As a young adult, she delved deeper into her blossoming interest in healing while living and working on an organic farm in Hawai'i. There she met a traveling midwife whose stories of caring for expectant mothers and their babies amplified a lifelong fascination with pregnancy and infants.
Zalla graduated from Oregon School of Massage in 2008 with a focus in prenatal, postpartum, labor & delivery and infant & pediatric massage. She moved to Houston and became licensed in Texas in 2009. She also became a certified yoga teacher under Les Gillan of The  Yoga Institute in 2009, but found that she prefers to use the knowledge to assist her massage clients in achieving improved range of motion and flexibility.
Zalla's vision is to make powerfully transformative bodywork accessible to more people than ever before. The expansive nature of this vision has pushed Zalla Massage to grow from operating out of an extra room in her home to expanding six more times into the big, beautiful home that we operate in now with a secondary expansion location down the street. The team includes over 20 fantastically skilled therapists and compassionate support staff working in harmony to make the vision a reality.
Zalla attributes the explosive success of Zalla Massage to a strong devotion to the highest quality therapy and customer service, a commitment to building relationships with clients and other small business owners through referral networking, and listening closely to her team to maintain an environment the clients and staff are happy to return to.
She maintains an open-door policy and encourages feedback, so if you have something to share directly, please write zalla@zallamassage.com.