Lynds
LMT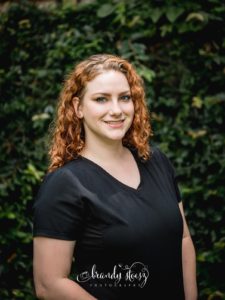 Lynds' journey into massage therapy began when she was a competitive dance teacher. Helping her students recover from injuries was always important to her, and it was hearing an ad for massage therapy that helped her realize it was something she needed to explore.
Lynds was licensed early in 2018. She still gets excited to help athletes recover and heal, but massage school and her career have shown her that she also enjoys being able to help clients with general relaxation and anxiety relief, as well as releasing over-worked, stressed muscles, and helping expectant moms relieve pregnancy related discomforts. Her style ranges from fluid to rhythmic, kneading the muscles into relaxation. She believes strongly in the value of tailoring massage to fit the client.
Outside of work, Lynds works hard to maintain a balance of health and wellness. She loves exploring and being active outdoors and spending free time with her fur babies. She is also passionate about the environment, trying to stay conscious of her impact on the planet. She's currently involved with Jamie's Hope, a non-profit cancer foundation, and eventually she hopes to travel and volunteer with Habitat for Humanity.