Judith
LMT, speaks Spanish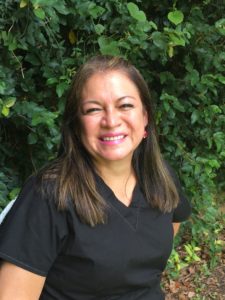 Judith enjoys working with clients to alleviate pain and bring relief to chronic issues. She graduated from Houston School of Massage and has been practicing since 2015.
She often applies a mixture deep tissue, myofascial techniques and trigger point therapy to release muscle tension. One of her favorite modalities is prenatal massage.Judith is a big proponent of lymphatic drainage because she finds it amazing to facilitate the body's natural ability to eliminate waste through the natural movements of smooth muscle tissue working with the lymphatic system. Lymphatic drainage can be very effective for improving swelling in the body.
She is also skilled in Swedish, sports, reflexology, and medical massage. She constantly expands her knowledge of massage so she can provide the best results for what the body needs in the moment. Even though she likes to do deeply therapeutic work, it is her firm belief that massage doesn't have to hurt to be effective.
In Judith's free time, she enjoys watching movies, working out, and riding her bicycle. But she says she is happiest when practicing her hobby of cooking.
Languages: English, Spanish