Blaire
LMT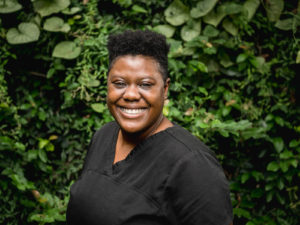 Immediate relief from a pulled muscle
I had some severe lower back pain after I pulled a muscle and was barely able to stand up straight and sit down. I scheduled my first massage for the next day and the results were incredible. I regained full range of motion after the massage and was so relaxed from the calming environment. I would highly recommend!
Claire C.
via Yelp
Each therapist is different but all are great!
Every person I've seen has a different style but all have been attentive to my specific needs and requests for variation in pressure. Jackie was particularly amazing. They offer a variety of times, online booking and I've never had an issue with availability. I cannot recommend this place enough.
Elaine A.
via Yelp 
Perfect prenatal massage
Jennifer was amazing ! My first prenatal massage and it was truly relaxing. I had pain on my lower back in which she work to its perfection. Gave me different stretching tips that really helped. Highly recommend to anyone in need of different massages. Will definitely be coming back!
Marlen D.
via Yelp
Luxurious sanctuary to feel renewed and refreshed
The location is central, and I love the fact that it's an old home with high ceilings. The decor is thoughtfully luxurious, so you can relax as soon as you walk in the door. The staff are very friendly, empathetic and competent... I enjoyed the Swedish massage which included a good bit of traction and stretching to begin. This makes a difference, since I'm at a computer so much. I like how they don't rush through - they ask a lot of questions and find those trouble spots, then work through them. I came out refreshed, renewed, and smelling rather lavendar-ish with a hint of orange. I'd highly recommend Zalla if you seek a small sanctuary tucked in the middle of the city, and you'd like to get away from 'factory' massage places or overly glam, huge retreats.
Brooke C.
via Yelp
Friendly, knowledgeable and professional with a great atmosphere
Always excellent, friendly customer service, knowledgeable and professional therapists, and the atmosphere beats the cookie cutter industry massage therapy facilities. Although I live in Katy,TX I will continue to gladly pass several massage therapy businesses to have to unique and quality experience that Zalla provides!!!!
Catina T.
via Yelp